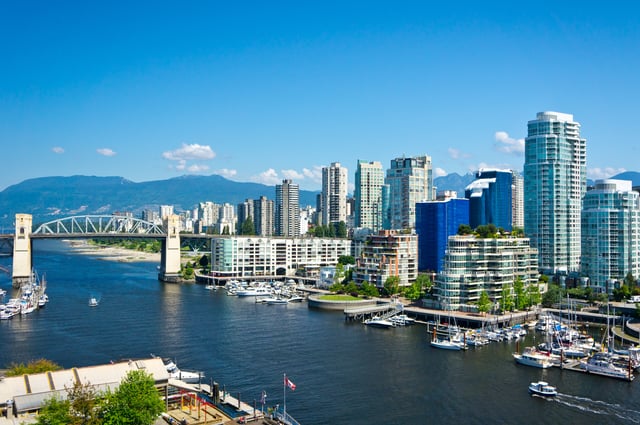 It is well-known that Canada welcomes immigration and believes that immigrants can contribute to the country's economy. In fact, Immigration, Refugees and Citizenship Canada (IRCC) set a 2017 target to admit 300,000 Permanent Residents.
One of the ways IRCC intends to achieve that target is through the Provincial Nominee Programs (PNP). This immigration program allows most provinces or territories to target immigrants with Temporary Visas who have specific education, work skills and/or experience that fit the province's or territory's employment needs. If an applicant meets a province's needs, the province can then nominate that person to become a Permanent Resident of Canada.
British Columbia is one of the provinces with a PNP that is tailored to the unique opportunities in the province. BC enjoys a diverse culture as well as an extensive range of industries from forestry and agriculture to construction and high-tech.
The Provincial Nominee Program in BC seeks high-demand foreign workers and entrepreneurs to help meet the employment needs of its various economic sectors. The program has also recently launched a Tech Pilot stream, which aims to match the growing technology sector with eligible, skilled foreign workers. The stream targets 32 in-demand occupations by issuing weekly invitations to apply.
What Is Unique About the British Columbia PNP?
In addition to the Tech Pilot mentioned above, BC's Provincial Nominee Program has three possible pathways, each of which has different categories. These pathways are: Skills Immigration, Express Entry BC, and Entrepreneur Immigration.
Skills Immigration
To apply under this pathway, an individual must have a valid, full-time job offer that has no set end date (not a contract position). The exception to this requirement is someone applying under the International Post-Graduate category.
The application is paper-based and the successful candidate can apply under one of five categories:
Skilled Worker (applicant must be qualified to work in a professional, management, technical, trade or other skilled occupation);

Healthcare Professional (applicant must be a physician, nurse, specialist, nurse practitioner, or allied health professional);

International Graduate (applicant must be an international student who has graduated from a Canadian university or college);

International Post-Graduate (applicant must be an international student who has a graduate degree in science from an eligible BC institution);

Entry-Level and Semi-Skilled (applicant must have valid experience in the tourism/hospitality, long-haul trucking, or food processing industries).
This pathway has a $700 processing fee.
Express Entry BC
This online application pathway is linked to the Immigration, Refugees and Citizenship Canada (IRCC) Express Entry System, which can result in faster processing but applicants need to meet the IRCC's Express Entry requirements.
The goal is to fill high-demand occupations in the province with workers who have the necessary skills and experience. As with the Skills Immigration pathway, an individual must have a full-time job offer in place, unless you are applying under the International Post-Graduate category.
The four categories under this pathway are:
Skilled Worker

Healthcare Professional

International Graduate

International Post-Graduate
This pathway has a $700 processing fee.
Entrepreneur Immigration
Targeted to individuals who want to establish businesses and invest in British Columbia, this pathway has both personal and business criteria for applicants to meet. Personally, applicants need to prove they have a personal net worth of at least $600,000 and have applicable management experience.
From a business perspective, applicants can declare either an interest in buying/becoming partners in an existing business with the intention to grow it, or an interest in starting a new enterprise.
The BC PNP will ask for a business plan that shows how the business will grow, employ workers, and contribute to BC's economy. This pathway has a $3,500 processing fee.
What Else to Consider with BC PNP
In addition to meeting the BC PNP pathway requirements, you must also demonstrate the ability to support yourself and any dependents who immigrate with you. Also, Skills Immigration and Express Entry BC require proof of proficiency in at least one of Canada's two official languages: English and French.
The BC PNP offers opportunity for eligible individuals wanting to immigrate to British Columbia. But the stakes can seem high, particularly when understanding requirements and providing adequate documentation.
For this reason, hiring an immigration professional to assist you is advisable. An immigration professional who has knowledge about Canada's Provincial Nominee Program can help you assemble a strong application.
Questions About BC Immigration? My Visa Source Has Answers.
Congratulations on taking your first step toward working and living in Canada. The more research you do on the immigration process, the more you will learn about your specific situation and how we can help you navigate through the British Columbia Provincial Nominee Program process.
My Visa Source stays updated on all immigration news and announcements across Canada and the United States, including sudden changes in government law. Our legal solutions help individuals, families and businesses from North America and around the globe.
Partnering with an experienced Vancouver immigration lawyer can greatly increase the likelihood of achieving your specific immigration or visa goals.
Immigration is a complex process that requires strong legal strategy, precise submission of legal documents and perfect attention to detail, reducing the risk of wasted time, money or permanent rejection.
Start Your British Columbia Provincial Nominee Program Today!
Securing personalized legal help is quick and simple. Begin with our one-minute online assessment form or call us toll-free at 1-888-509-1987.
We have a dedicated team of licensed professionals standing by, ready to answer your immigration and visa questions.
Book a personal consultation to speak with an award-winning immigration lawyer over the phone, on Skype or in-person at our downtown Toronto and Vancouver offices.