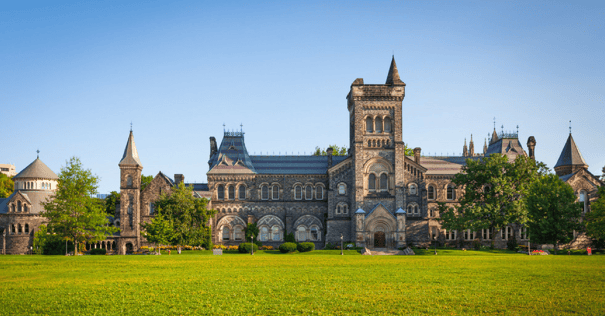 Canada, also known as The True North, contains some of the top universities in the world, according to the Times Higher Education's World University Rankings 2020. These academic institutions offer exceptional opportunities for higher learning. If you're an international student hoping to study abroad, Canadian universities offer many different programs and degrees for you to choose from.

Obtaining a Canadian Study Permit will get you one step closer to studying at one of Canada's world-class research institutions and learning in either English or French. Not sure which school is right for you?

Read on to learn about the top 10 universities in Canada or click here to learn about Canadian Study Permits. These schools offer a variety of programs that will appeal to students who are searching for the best universities in Canada for international students.

Below you will find a list of universities in Canada for international students with a short review of each school so you can find the best school for you.
University of Toronto
According to "The Times Higher Education Best Universities in Canada 2020 Rankings", the University of Toronto ranked 18th globally and the top university in Canada.

The campus is one of the most diverse in Canada, attracting students from all around the world, including 160 countries, making U of T an attractive choice for international students. The university is structured like a collegiate system. If you want to be part of a large university and attend one of the best colleges within a university, then U of T is your best option.

Known as one of the best schools in Canada for medicine, the discovery of insulin occurred at U of T by renowned Nobel laureate, Frederick Banting. With a great number of undergraduate and graduate programs offered and a global mix of students, U of T is one of the most attractive schools in the country.
Notable alumni include five Canadian prime ministers and writers Michael Ondaatje and Margaret Atwood. In total, 10 Nobel laureates are affiliated with the university, including Banting.
University of British Columbia
UBC ranks second in the list of top 10 Canadian universities and 34th globally. The university earned its rank due to its reputation for research, distinguished alumni, and scholarships available for international students.

UBC has two campuses - one in Vancouver and one in Kelowna. Students from abroad will appreciate the fact that the climate of the Greater Vancouver Area tends to be much milder than the rest of Canada and offers proximity to beaches and mountains.

This prestigious university has housed many prominent people and produced many scholars and athletes - 3 Canadian Prime Ministers, 8 Nobel prizewinners, 65 Olympic medallists and 71 Rhodes scholars.
McGill University
Montreal's McGill University ranked third in Canada and 42nd globally, according to Times Higher Education. McGill is the only Canadian university represented in the World Economic Forum's Global University Leaders Forum.

Renowned as a medical school, McGill established Canada's first faculty of medicine, which attracts international students to the iconic campus. All of the original buildings were constructed with local grey limestone, which provides also a unique aesthetic.

Offering more than 300 degree subjects to more than 31,000 students, from 150 countries, McGill is one of three universities in Quebec at which you can learn in English. In fact, nearly a quarter of the student body is from overseas.

Notable McGill graduates are singer-songwriter Leonard Cohen and actor William Shatner.
McMaster University
The fourth-ranked Canadian and 72nd globally ranked university is located just over one hour southwest of Toronto in the city of Hamilton. Located on 121 hectares of land, McMaster is beautifully situated and is a close 15minute drive to the Royal Botanical Gardens.

McMaster readily accepts international students many who are drawn to its well-known medical school. Students and faculty come to McMaster from over 90 countries and the university has established around 70 international exchange agreements with universities around the world. Other well-known faculties are engineering, business, humanities, social sciences, and science.

McMaster is also well-known for its research work, particularly in the field of health sciences.
University of Montreal (Université de Montréal)
The University of Montreal is ranked fifth on the list of best Canadian universities and 85th globally. The only francophone university in the top 5, this school is located in the architecturally beautiful city of Montreal and the main campus is located on the slopes of Mont Royal. Seventy-four percent of the student population typically enrolls in undergraduate study.

Sports are popular at this university, particularly badminton, football, and hockey.

The University of Montreal is well-known for its many business graduates and for graduates noted for their contributions to scientific research. Former Prime Minister Pierre Trudeau, as well as 10 premiers of Quebec, are counted as distinguished alumni.
University of Alberta
The University of Alberta, with its main campus in the province's capital - Edmonton - earned the sixth spot in the top 10 Canadian universities and the 136th spot on the Times Higher Education list of the world's top universities. If you're interested in energy research, the University of Alberta offers outstanding programs linked to this industry, including programs dedicated specifically to oil sands study.

U of A's variety of majors as well as the achievements of its alumni, who have founded over 70,000 organizations across the world, contributed to its ranking. A distinguished faculty has received more 3M teaching awards than any other Canadian university.
University of Ottawa
The University of Ottawa, located in Canada's capital city ranks seventh in Canada and 141st globally.

The largest bilingual (English-French) university in the world, Ottawa U offers courses in both languages. International students from more than 150 countries enroll at this public university and study at a school that offers high-quality education and traditionally lower tuition fees than other Ontario universities.

Studying downtown in a medium-sized city while also being able to live downtown, due to traditionally lower rents than Toronto, for example, is a definite draw for English speaking and non-English speaking international students.
University of Waterloo
Ranked eighth on the list of top ten universities in Canada and between 201st and 250th in the world, the University of Waterloo is located at the heart of Canada's technology hub, in Waterloo, Ontario.

One of many schools in Canada for international students, this university has become a leader in co-operative education programs. UW has the world's largest post-secondary co-operative education program, is one of the best Canadian universities for international students, and is committed to innovation and collaboration in order to foster a better future for Canada.

The University of Waterloo is known for its engineering and physical sciences program, which the Times Higher Education Magazine places in the top 75 programs worldwide.
Western University
Western is ninth on the list of top 10 Canadian universities and is ranked between 201st and 250th in the world.

As one of Canada's research-intensive universities, Western is known for its exceptional academic programs, research discoveries, and its location in beautiful London, Ontario.
Western offers more than 400 undergraduate programs and 88 graduate degree programs. A mid-sized university, more than 38,000 students attend the school from 121 countries.

Considered one of Canada's most beautiful campuses, Western is situated on a campus filled with trees, greenspace, beautiful study space, architecturally pleasing buildings, and impressive facilities.

This university has specialized programs in business administration, dentistry, education, law, and medicine.
University of Calgary

Situated close to the idyllic Rocky Mountains, the University of Calgary, founded in 1966, is located in the city of Calgary, in the province of Alberta and is ranked tenth in Canada and between 201st and 250th in the world.

The university has an alumni network of over 160,000 people, attracts around 30,000 students, 3,000 of which are international students from around 125 countries. The University of Calgary is primarily a research university and operates 50 research institutes and centres. A secondary campus opened in 2007 in Doha, Qatar.

Notable programs are engineering, commerce, dance, and kinesiology.

Distinguished alumni are former Canadian prime minister, Stephen Harper, and astronaut Robert Thirsk, who holds the Canadian record for the longest space flight and the most time spent in space.
Honourable Mentions
Dalhousie University
One of the oldest universities in Canada, Dalhousie was established in 1818 by George Ramsay, the ninth Earl of Dalhousie and Lieutenant-Governor General of Nova Scotia, in Halifax, Nova Scotia. Ramsay established Dalhousie as a College with the intent of creating an educational institution that would be accessible to all.
Dalhousie became a university in the mid-1860's and now offers over 180 university degree programs to its approximately 18,000 students across 12 faculties.

In 1997, Dalhousie merged with the Technical University of Nova Scotia (TUNS) in order to enhance its research capabilities to include applied technologies. Dalhousie is one of the public universities in Canada that offers a wide range of degree programs in the sciences, medicine, and the arts.
As one of the best universities in Canada, Dalhousie is unique as it is home to an agricultural campus, which includes a working farm, 1,000 acres of research fields, and several gardens and greenhouses.

Some of the notable graduates of the university include three former Canadian Prime Ministers, the Nobel Prize-winning astrophysicist Arthur B McDonald, and Michel Trudeau, son of Pierre Trudeau and younger brother of Justin.
Laval University (Université Laval)
Université Laval located in picturesque Quebec City is one of the most innovative universities in the country as it thrives on creativity, partners with industry and tech companies, is a leader in artificial intelligence, and is known as a top research school. Laval also boasts $357 million in dedicated research funds. Laval is also Canada's top university for distance learning.

Known as a pioneer in northern research, Laval is home to three of the most important northern research initiatives in the world, as well as a centre of excellence, which has created products that have led to numerous patents and high tech start-ups to evolve.

Recognized as a university in Canada for international students, Laval welcomes around 7,000 international students from 120 different countries. Over 2,500 of its students are in Canada through a national and international mobility program, and nearly one in two doctoral candidates are from abroad.

Laval employs some of the most world-renowned professors - microbiologist Sylvain Moineau who developed a gene-editing tool; cancer researcher Jacques Simard, a pioneer in the field of cancer screening; and, Gary Kobinger, an expert in infectious diseases.

Notable alumni include Canadian Prime Ministers Louis St-Laurent, Brian Mulroney, and Jean Chrétien, as well as other distinguished graduates like world-famous architect Pierre Thibault, CEO of AI leading tech company Coveo Louis Têtu, respected businessman Louis Garneau, and the president and CEO of Québec biggest private energy company, Sophie Brochu.
University of New Brunswick
The University of New Brunswick was founded in 1785 by a group of seven Loyalists who left the United States after the American Revolution. The first campus was situated in Fredericton and then in 1964, a second campus was built in Saint John.
This university is unique in that it also operates two small satellite campuses located in Moncton and Bathurst, New Brunswick and has offices in the Caribbean and in Beijing.

The university is known across Canada as an entrepreneurial school and in 2014 UNB was named the most entrepreneurial university in Canada at the 2014 Startup Canada Awards. This school has a total enrollment of about 11,400 students and offers over 75 degrees.

The province of New Brunswick is the only bilingual province in Canada with both English and French spoken. This fact may be a deciding factor for international students whose native language is French.
York University
York University, although not in the top 10 list of universities in Canada, is well-known around the world and is recognized as a reputable school for students wanting to study business at Schulich School of Business or law at Osgoode Hall Law School.
Located in north Toronto, York is also well-known for its excellent research capabilities and its more than 200 programs. York has the only Space Engineering program in Canada, a new Global Health program, and a unique cross-discipline Digital Media program.

International students from China will be happy to know that in 2017 the Shanghai Ranking Consultancy ranked York's Kinesiology and Health Science program #1 in Canada and among the top 3 in North America.
York has a second campus recognized as one of the best colleges in Canada for international students who either speak French or want to learn French. Glendon College is a fully bilingual school located near the wealthy and well-treed Bridle Path area of Toronto.

York is the third-largest university in Canada, with a strong community of 53,000 students, 7,000 faculty and administrative staff, and more than 300,000 alumni. York has become known as one of the top schools in Canada for international students. You can learn across the globe in one of four campuses, including Costa Rica and India.

Notable graduates are film star Rachel McAdams, comedian Lilly Singh, evolutionary biologist and television show host Dan Riskin, Toronto Star columnist Chantal Hébert, and Joel Cohen, writer and producer of The Simpsons.
Simon Fraser University
Simon Fraser University (SFU) founded in 1965, features campuses in Vancouver, Surrey, and Burnaby, offering international students excellent choices in terms of west coast locations for study.
Those who want to enjoy Canadian colleges without having to pay high prices for rent, like you will find in Vancouver, can obtain the same great education in Burnaby and Surrey.

The Greater Vancouver Area is gorgeous as a whole, with Surrey and Burnaby sitting next to the Fraser River and Vancouver fronting the Pacific Ocean. SFU is known mainly for their business school and faculty of communication, art and technology.

SFU is proud to say that they have one of Canada's strongest co-op education programs and students have been placed in local and international internships at organizations like Tesla and Facebook.
Ryerson University
Ryerson Institute of Technology was established in 1948 after the end of the Second World War. There was a great need for skilled tradespeople following the War and Ryerson was ahead of its time as it offered a unique opportunity to learn academic theory combined with technical education at one of Canada's only technical colleges.

One of the fastest-growing educational institutions in Canada, Ryerson University has evolved into a major destination for international students who want to live in downtown Toronto. Major investments have transformed the campus.

Ryerson University is among the best in the liberal arts, but also offers faculties in engineering and architecture, science and management. Similar to the best universities in Ontario, Ryerson also offers many Bachelor of Commerce options include accounting, finance, technology management, tourism, and hospitality majors.

Due to Ryerson's location in downtown Toronto, one of the world's most diverse cities, Ryerson is known as one of the best technical colleges in Canada for international students.
Questions About Immigration? My Visa Source Has Answers.
Congratulations on taking your first step toward studying in Canada. The more research you do on the immigration process, the more you will learn about your specific situation and how we can help you navigate through the Student Visa process.
My Visa Source stays updated on all immigration news and announcements across Canada and the United States, including sudden changes in government law.
Our legal solutions help individuals, families and businesses from North America and around the globe.
Partnering with an experienced immigration lawyer can greatly increase the likelihood of achieving your specific immigration or visa goals.
Immigration is a complex process that requires strong legal strategy, precise submission of legal documents and perfect attention to detail, reducing the risk of wasted time, money or permanent rejection.
Start Your Student Visa Process Today!
Securing personalized legal help is quick and simple. Begin with our one-minute online assessment form or call us toll-free at 1-888-509-1987.
We have a dedicated team of licensed professionals standing by, ready to answer your immigration and visa questions.
Book a personal consultation to speak with an award-winning immigration lawyer over the phone, on Skype or in-person at our downtown Toronto and Vancouver offices.