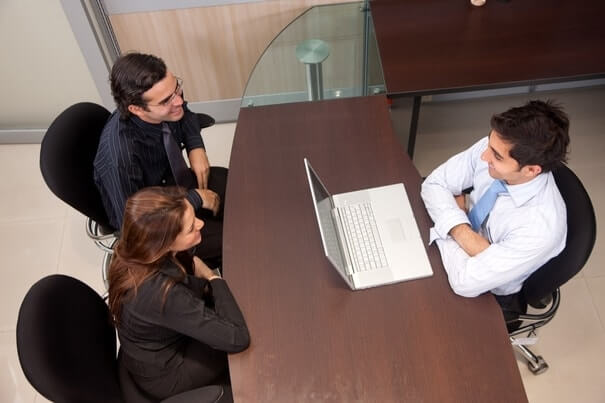 After you've set up all the documentation and paperwork for your spouse's sponsorship application, you'll have to undergo an interview by a visa officer. If you're unprepared, this can be stressful.
This officer decides whether or not your application will continue, which makes it vital for you to interview well. When you arrive in Canada, you'll also go through screening interviews with a border officer, which will be much less complex than your discussion with the visa official.
Visa Sponsorship Interview Process
One of the most difficult parts of applying for a spousal sponsorship is the lengthy interview that you and your spouse must go through. Overall, the purpose of this interview is to confirm the details of your marriage, common-law or conjugal relationship.
The visa officer conducting the interview will look to match your interview questions with answers you provided during the paperwork and documentation portion of the application.
Two important factors should be considered before you go into the interview portion of the application:
First and most important, if the officer finds out that you've lied on the application or submitted fraudulent paperwork, you're almost guaranteed to be considered inadmissible for your current application, and for any subsequent visa application. This might happen even if you gave false information by mistake, or if you answer a question incorrectly, so it's vital that you provide information that's completely accurate.
Second, you should understand that it's impossible to predict all of the questions that a visa officer might ask. Depending on your answers during the interview, the officer may wish to probe into further detail in an attempt to uncover falsehoods. The officer might not understand an answer that you've given, which requires additional questions to confirm all the necessary details.
It's extremely unlikely that you'll be asked the same set of questions as a friend or family member who went through the same process. However, considering that this is a spousal sponsorship process, you can be sure that there will be many questions designed to determine that the relationship between you and the person you're sponsoring is genuine.
As such, you can expect to have to recall how the both of you met and details about how your relationship flourished, including the events that led up to your wedding. The visa officer might ask about the details of the wedding itself, including a request for pictures. You may be asked to show a pattern of correspondence through email, instant messaging, Skype, SMS messaging, phone logs and other types of communication that couples tend to use.
Depending on your country of origin, you might be asked a set of questions that are based on cultural issues, including arranged marriages or questions about religious traditions. After all of these questions, the visa officer may make simpler inquiries, such as confirming that the spouse knows your phone number and Canadian address. Due to the wide breadth of questions asked, it's important to prepare as best as possible.
Screening Interview Process
When you arrive in Canada, you'll have to go through another interview by an officer from the Canada Border Service Agency. This should be a shorter screening session compared to the rest of the process, as long as you have all your documents arranged for presentation. The officer will ask you basic questions, some of which you've already answered, including:
Were you convicted of a serious crime in your home country?
How long will you be in Canada?
How much money have you brought with you?
Are you travelling with your family?
Is this your first time in Canada, and have you ever been asked to leave Canada?
Are you healthy?
These will be some of the first things that you will be asked when you enter the country. Shortly afterwards, you'll have a second screening interview, which should also be a relatively brief affair. During this discussion, you'll be asked:
If you have plants or animals with you.
If you've brought fireworks, firearms or ammunition with you.
If you packed materials derived from an endangered species.
If you've brought dairy, fresh fruits, vegetables or meat products into the country.
To list items that you've brought with you into Canada.
The first set of questions is designed to confirm that the people entering the country match the information provided in their official documents, while the second set of questions confirms that they haven't brought contraband items, flora, fauna or foodstuffs that could negatively affect the Canadian environment.
Questions About Immigration? My Visa Source Has Answers.
Congratulations on taking your first step towards sponsoring your spouse in Canada. The more research you do on the immigration process, the more you will learn about your specific situation and how we can help you navigate through the Spousal Sponsorship process.
My Visa Source stays updated on all immigration news and announcements across Canada and the United States, including sudden changes in government law. Our legal solutions help individuals, families and businesses from North America and around the globe.
Partnering with an experienced lawyer can greatly increase the likelihood of achieving your specific immigration or visa goals. Immigration is a complex process that requires strong legal strategy, precise submission of legal documents and perfect attention to detail, reducing the risk of wasted time, money or permanent rejection.
Start Your Spousal Sponsorship Process Today!
Securing personalized legal help is quick and simple. Begin with our one-minute online assessment form or call us toll-free at 1-888-509-1987.
We have a dedicated team of licensed professionals standing by, ready to answer your immigration and visa questions. Book a personal consultation to speak with an award-winning immigration lawyer over the phone, on Skype or in-person at our downtown Toronto and Vancouver offices.