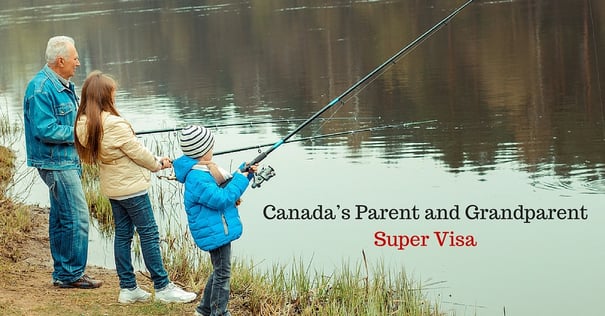 Parent and grandparent visitor visas help families stay in touch by allowing loved ones to visit Canada without having to worry about rushing back home. Similar to most other visa programs, a laundry list of requirements must be satisfied to earn the privilege of an extended-stay visa. Make sure you understand all the processes, such as the new eTA requirements, in order to avoid unexpected problems or delays.
Eligibility Requirements
For this particular visa program, you have to be the grandparent or the parent of a permanent resident or a citizen of Canada. A variety of factors will be considered before the government grants the visa, including your financial situation, your ties to your home country, the reason for your visit, and other issues.
Before you're accepted into the program, you will undergo a medical test to prove that you don't have any communicable health issues. A visa officer may also decide to deny a parent or grandparent a visa if a discovered health issue isn't covered by your medical insurance, which must be sufficient to pay for health problems that you might encounter over the course of at least a year.
In addition to health coverage, you must submit a letter that proves your child or grandchild is able to financially support you.
All of the above are basic super visa income requirements for this type of visa. However, there are other issues that might end up derailing the process, applicable to all visa applicants.
Low Income Cut-Off
In terms of financial support, the Immigration, Refugees and Citizenship Canada (IRCC) has outlined the minimum income for families before they'll be considered for the parent and grandparent visa. If you plan to travel alone to visit a single child, she or he requires a minimum income of $30,286. For a four-person family, the minimum LICO will be $45,206, while a seven-person family will require a yearly income of at least $64,381. For each member of a family above seven persons, the minimum income requirement rises by $6,555.
There are a variety of reasons why the Canadian government may disallow your visit on grounds of inadmissibility. According to the IRCC website, you may be denied entry if:
You're considered a security risk.
You've been convicted of a crime outside of Canada, or have committed an act that would be considered a crime in Canada.
You contravened international or human rights and laws.
You're found to have a serious health issue that would burden the medical system or threaten the health of others within Canada.
You're found to have links to organized crime.
You lied during the application process, including paperwork and interviews.
A family member is considered inadmissible.
You're found to have serious financial problems.
If, for any reason, you're considered to be inadmissible, the rest of your application will not matter. Before you continue the process to obtain a grandparent or parent visa, you'll have to clear up the issue with the Canadian government.
As of September 29, 2016, the Canadian government will require that all visitors who are visa-exempt foreign nationals present an Electronic Travel Authorization (eTA) in order to fly to Canada. Before this date, travelers who have all the needed documentation will still be allowed on their flight. However, it should be noted that border service officers will be the ones making the final determination. If they determine that you don't possess all the requirements needed to enter, and if you don't have an eTA, then they may decide to deny you entry, which would greatly complicate your visit.
Causes of Potential Delay
If your application is extremely time-sensitive, it's important to refrain from common mistakes that could easily be avoided through attention to detail. One of the most frequent mistakes involves simple paperwork errors, such as missing forms and signatures, blurry photos or photocopies, or documentation that doesn't include a French or English translation.
Sometimes, paperwork ends up being delayed because it requires verification of authenticity from the government body that issued it. This might lead to consultation with other immigration and citizenship offices, which would lead to further delays. As a result, it's always good to double check all documents and provide the best image quality possible for your application.
Questions About Immigration? My Visa Source Has Answers.
Congratulations on taking your first step toward visiting or living in Canada. The more research you do on the immigration process, the more you will learn about your specific situation and how we can help you navigate through the Super Visa process for parents and grandparents.
My Visa Source stays updated on all immigration news and announcements across Canada and the United States, including sudden changes in government law. Our legal solutions help individuals, families and businesses from North America and around the globe.
Partnering with an experienced lawyer can greatly increase the likelihood of achieving your specific immigration or visa goals. Immigration is a complex process that requires strong legal strategy, precise submission of legal documents and perfect attention to detail, reducing the risk of wasted time, money or permanent rejection.
Securing personalized legal help is quick and simple. Begin with our one-minute online assessment form or call us toll-free at 1-888-509-1987.
We have a dedicated team of licensed professionals standing by, ready to answer your immigration and visa questions. Book a personal consultation to speak with an award-winning immigration lawyer over the phone, on Skype or in-person at our downtown Toronto and Vancouver offices.