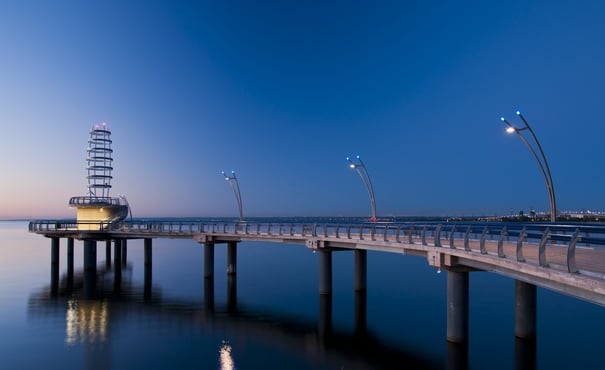 Canada has proven itself to be an incredibly beautiful and vibrant place to call home. The diverse landscape is matched only by that of those who inhabit the land. With its ten provinces and three territories, Canada offers an overwhelming number of cities and towns that welcome new residents into their communities.
Have you decided that you want to live or work near Toronto to be close to all that the city has to offer, but you'd like to live within a smaller community? If your answer is "yes," here are five places you will want to consider.
Mississauga
Just a short twenty-minute drive to Toronto, Mississauga provides families with the space to grow and the ability to access the benefits of the big city. That being said, there is also a lot that you can see and do in Mississauga. There are a variety of shops to browse and restaurants to eat at, as you wander along the lake in Port Credit. If your family likes to bike, hike or run, there are many trails that will take you through the numerous city parks and woodlands.
Mississauga boasts an immigration rate of over 50% and offers numerous free programs for newcomers. Events like the 5-day Job Search Workshop for New Immigrants to Canada offered by the Peel Multicultural Council and the ESL Adult Reading Circle for Newcomers at the Cooksville Library serve to help people settle into their new homes with ease.
Vaughan
Located north of Toronto in the York Region, the city of Vaughan includes the amalgamated towns of Woodbridge, Concord, Maple, and Kleinburg. Vaughan is one of the largest cities in Ontario and over 40% of its population are new Canadians. Vaughan offers its residents a thriving, diverse community within which to raise a family.
For those that need some assistance settling into their new home, there are options available. The core services provided by The Welcome Centre Immigrant Services located at the Vaughan Centre include settlement and integration mentorship, language training, and employment supports such as accreditation and qualification assistance as well as job search workshops.
Richmond Hill
Richmond Hill is a quick thirty-minute drive into Toronto, allowing for the opportunity to live in a quiet, welcoming community while still enjoying the opportunities provided by being situated closer to a larger city.
Living in Richmond Hill has much more than a safe home to offer. If you want to experience the arts, you could take in a play at the Richmond Hill Centre for the Performing Arts or wander through an exhibition at the Boynton House Art Exhibition Space. If you're looking for a place to stay physically active with your spouse and children, there are a number of community recreation centres that offer programs for both adults and children.
The Welcome Centre Immigrant Services in Richmond Hill, located on 9325 Yonge Street, provides similar services to those offered by The Welcome Centre Immigrant Services in both Vaughan and Markham.
Burlington
Burlington is currently one of the best cities near Toronto to find an affordable home. The city provides a clean, safe and friendly option for families wanting the space to breathe and grow. Hop on the highway or jump on the GO Train and you're in the big city within the hour. Buying a house in Burlington will take a lot less time than it will in some of the other communities surrounding Toronto.
Although the immigrant population sits at a low 22%, it does continue to grow as the city expands. There are many organizations offering services to new Canadians, including Costi Immigrant Services and Global Immigration Service. Here you can find the type of caring service you will need to help both you and your family adjust to a new life in a new home.
Markham
Markham has the second highest population of new Canadians of any large city in Canada, with an immigration rate of over 55%. Also, Toronto is easily accessible by transit or highway for all those that have decided to call it home.
The City of Markham's strategic plan focuses on maintaining its reputation for strong economic growth by focusing on four main priorities:
1. Exceptional Services by Exceptional People
2. Engaged, Diverse and Thriving City
3. Safe and Sustainable Community
4. Stewardship of Money and Resources
At the Welcome Centre Immigrant Services, they develop one-on-one connections within the case management system. The centre provides a holistic approach to assisting new Canadians with their needs regarding employment, language skills, and settling into their new home.
Making the decision to uproot your family in search of a better way of life takes not only courage but determination. Finding the one perfect place that provides you with a sense of security, belonging, and well-being takes some research, but once you find it you'll know, because you'll have found your home.
Questions About Immigration? My Visa Source Has Answers.
Congratulations on taking your first step toward visiting Canada. The more research you do on the immigration process, the more you will learn about your specific situation and how we can help you navigate through the process.
My Visa Source stays updated on all immigration news and announcements across Canada and the United States, including sudden changes in government law. Our legal solutions help individuals, families and businesses from North America and around the globe.
Partnering with an experienced lawyer can greatly increase the likelihood of achieving your specific immigration or visa goals. Contact My Visa Source, your source for everything immigration.
Immigration is a complex process that requires strong legal strategy, precise submission of legal documents and perfect attention to detail, reducing the risk of wasted time, money or permanent rejection.
Access Essential Immigration and Visa Expertise in a Minute
Securing personalized legal help is quick and simple. Begin with our one-minute online assessment form or call us toll-free at 1-888-509-1987.
We have a dedicated team of licensed professionals standing by, ready to answer your immigration and visa questions.
Book a personal consultation to speak with an award-winning immigration lawyer over the phone, on Skype or in-person at our downtown Toronto and Vancouver offices.