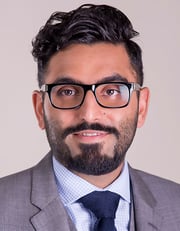 Sunny S. Dhillon was born in Northern British Columbia, Canada and raised in Vancouver, Canada. He has studied law in London and at the University of Cambridge in the United Kingdom. He also studied finance at the British Columbia Institute of Technology in Canada. He holds a Bachelors of Laws degree (Honours), London and is registered and regulated - RCIC - R512401.
Sunny is a Partner and Co-Founder. Sunny has advised clients on immigration strategies from over 40 countries and 6 continents. He has a true passion for family unification through immigration sponsorship and the free movement of business's and key personnel across international borders.
Tech startups Sunny has assisted with business immigration and growth strategies in Canada and the United States have been from notable hubs in Canada, Seattle, Silicon Valley, New York, Sydney, London, Bangalore and Tel Aviv. Sunny has also had the pleasure of preparing a startup to pitch at Canada's version of the "Sharks Tank", which is the "Dragons Den".
Prior to launching My Visa Source, Sunny served as a board of director for multiple startups in Canada. He has worked at PayPal and eBay. Sunny was at the company during the launch of the online marketplace Kijiji. Sunny has also managed a portfolio with an accumulated value over $100MM of which the largest was $93MM. His past and present experience has provided an in-depth understanding of providing a personalized client experience in the digital era.
Sunny is a supporter of Children Hospital's in Canada. He appreciates modern and historic architecture and is an avid snowboarder.