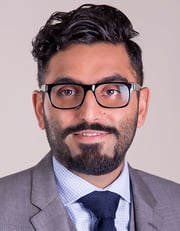 Sunny S. Dhillon is the Chief Executive Officer at My Visa Source Corp.
Sunny was born in Northern Canada and has had the opportunity to help clients relocate and work across the country.
Sunny has advised clients on immigration strategies from over 87 countries and all 7 continents. He has a true passion for family unification through immigration sponsorship and the free movement of business's and key personnel across international borders through express entry, corporate immigration and investor programs.
Sunny is proud to have grown My Visa Source into a global immigration law solution provider. He has been instrumental in reshaping the deliviery of immigration law solutions and making them accessible to individuals and businesses through intimidation free consultations and technology. My Visa Source has become an award winning immigration firm under his direction and has successfully advised thousands of clients looking to make Canada their home on an annual basis.
One of Sunny's passions consists of advising high-growth technology companies with business immigration, growth and expansion strategies. To date some of these companies have been from notable hubs in Canada, Seattle, Silicon Valley, New York, Sydney, London, Bangalore and Tel Aviv. Sunny has also had the pleasure of preparing a startup to pitch at Canada's version of the "Sharks Tank", which is the "Dragons Den".
Prior to launching My Visa Source, Sunny served as a board of director for multiple startups in Canada. He has worked at PayPal and eBay. Sunny was at the company during the launch of the online marketplace Kijiji. Sunny has also managed a portfolio with an accumulated value over $100MM of which the largest was $93MM. His past and present experience has provided an in-depth understanding of providing a personalized client experience in the digital era.
He has studied law in London and at the University of Cambridge in the United Kingdom. He also studied finance at the British Columbia Institute of Technology in Canada. He holds a Bachelors of Laws degree (Honours), London and is a registered and regulated rcic immigration practitioner.
Sunny is a supporter of Children Hospital's in Canada. He appreciates modern and historic architecture and is an avid snowboarder.
Take a Look at Some of Sunny's Client Reviews:
"I met lot of consultants before my application. Some were lacking experience, some knowledge and for some it was just a "business". But found Sunny the most genuine from all of them. Their staff [Sonia, Amber] was quite helpful. They always replied precisely to my giant emails or queries on time. Will definitely recommend them to my friends or any one in my circle. Thanks!"

5 out of 5 » Rating by: Harleen S.
"These guys are fantastic and hold a wealth of knowledge, Sunny is a great guy and got back to me very quickly and gave me a lot of advice on what to do in regards to my situation! Thanks again guys!"

5 out of 5 » Rating by: JM S.
"I had a five-star experience with My Visa Source. They reviewed my documents in timely manner, patiently answered tons of my questions, and made some valuable comments about my application. I worked with Sunny and Sonia. They both are very knowledgeable in what the do. Moreover, I felt they genuinely wanted to help me succeed. I received professional service and great encouragement from wonderful team! I highly recommend My Visa Source."

5 out of 5 » Rating by: Helen D
"When I first started the process of obtaining my permanent residency I wasn't sure whether I'd ever write this review, but, today, I received my COPR from the IRCC and would like to thank Sunny, Sonia and the team for their help and advice along the way. I remember speaking to a few immigration lawyers and none of them believed that I would qualify for the PR, thank you for giving me that ray of hope and help spearhead this process. You, Sonia and the rest of the team have been great."

5 out of 5 » Rating by: Pavan D.
"After major frustration working on our own, we contacted My Visa Source. First Sunny was very helpful explaining the process (and was available along the way. as needed). Sonia Mann was assigned to the case and was extremely helpful, navigating methodically through the visa system. Her knowledge is extensive and she went above and beyond the call of duty to get things done and meticulously go through the paperwork. She truly knows what is needed to ensure a case is reviewed properly and taken seriously by government officials. Through all the trials and tribulations, Sonia was professional, steady and clear on the right documentation for successful results....and she delivered! Thank goodness for Sonia, she really got the job done when odds seemed against it. Thank you Sunny, Sonia and My Visa Source!"

5 out of 5 » Rating by: Lei
"I had a good experience. Sunny was helpful in answering my questions and giving me the details about the process and costs."

5 out of 5 » Rating by: Terry C.
"Mr. Sunny S Dhillon advised me about my case in a very professional and a calm manner over the phone. He has the quality of understanding a situation and focusing on practical advice. I feel more confident about taking legal advice from this firm in present and in future."

5 out of 5 » Rating by: Amm J.