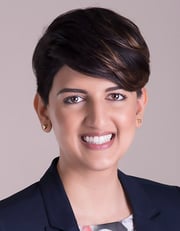 Sonia Mann is the Chief Operating Officer at My Visa Source Corp. and MVS Law PC. She has experience with a variety of immigration cases ranging from corporate immigration, overcoming criminal inadmissibility, denied entry to Canada, provincial nominee programs, spousal sponsorship and more.
Sonia's passion for immigration stems from a past role as a Research Assistant at the University of Calgary – Ethnic Studies and Population Research Laboratory. She believes that a vibrant Canadian economy requires robust immigration policies that promote growth and diversification.
Sonia Mann was born and raised in Calgary, Alberta, Canada. She studied law through the University of London and University of Cambridge in the United Kingdom. Sonia also attended law school at the University of Victoria in Canada. Sonia holds a Bachelors of Law degree (Honours), London, Immigration Practitioner Certificate and a Bachelor of Arts in Sociology. She is currently a member in good standing with ICCRC (member no. R415183)
Sonia is also a self-proclaimed food lover and enjoys trying different cuisines wherever she might be.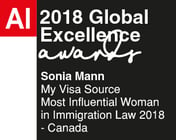 Sonia Mann has recently been awarded by Acquisition International's 2018 Global Excellence Awards as their chosen "Most Influential Woman in Immigration Law in Canada for 2018"
Take a Look at Some of Sonia's Client Reviews:
"Put your mind at ease, Sonia and Trevor are both Very professional. We received our PR within the estimated completion date. Really Happy.

5 out of 5 » Rating by: Tom R.
"I would like to say that my experience with Sonia and her team was uplifting and positive during this difficult time for my family. It is rare to find a professional as meticulous, passionate and caring as Sonia was throughout our ordeal. Regardless of the outcome, I knew that Sonia would leave no stone unturned in presenting the truth regarding our situation. We had a successful outcome, and if we were to give Sonia a rating it would definitely be Five Stars. Thank You Sonia, you truly love your craft."

5 out of 5 » Rating by: Scott G.
"We have been extremely happy with the services of My Visa Source and in particular Sonia Mann. Navigating through the process to bring in a live-in nanny was made so much easier working with Sonia. She is knowledgeable and very structured, which is a bonus as there is a LOT of paperwork, forms and hoops to navigate to get through the process. Utilizing her experience has been a huge benefit to us and I am sure we would not have seen a successful or timely outcome had we attempted this ourselves. I would highly recommend Sonia and My Visa Source."

5 out of 5 » Rating by: Daniel E.
"Thanks to Amber and Sonia who had been very professional and detail from day one until the day I received my PR, the whole process was 5 months quicker than expected. Can't expect any better service than this, highly recommended!! Cheers."

5 out of 5 » Rating by:Edward O.
"I highly recommend my visa source. Sonia helped me get my post grad work permit. I was really satisfied with the way they handled my file.I highly recommend my Visa Source to all my friends and family.I am really grateful that I visited them with my immigration issue."

5 out of 5 » Rating by: Mohammad A.
"I had a very good experience with My Visa Source. They helped me throughout the entire process and they seemed to have a lot of experience in the matter. The communication was very fluid through phone calls and emails. They charged me just one flat fee for the service. I highly recommend them. Thanks Carlos, Sonia and team for their help!!"

5 out of 5 » Rating by: Javier T.
"Had a few issues starting off but after everyone was on the same page, we were able to make good progress. Trevor is awesome along with Mandeep, and Sonia."

5 out of 5 » Rating by: Anubhav M.