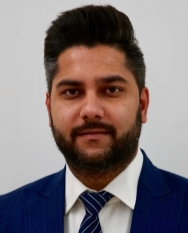 Shubh Singh is a licensed Regulated Canadian Immigration Consultant (RCIC), recognized by the Government of Canada as a member in good standing with the Immigration Consultants of Canada Regulatory Council (ICCRC).
He graduated with Honours in the Canadian Immigration Consultancy Program from Ashton College. Shubh is an experienced, self-motivated and results-oriented immigration professional, who is well-versed in Canadian immigration laws, policies and procedures.
Shubh is also an Information Systems Business Analyst as accredited by the International Institute of Business Analysis (IIBA). He holds a Bachelor's degree in Commerce and a postgraduate degree in Marketing Management – Financial Services. Prior to entering his most cherished field of immigration, where his goal is to assist people in fulfilling their immigration dreams, he excelled in commerce where he rose to the level of National Manager in a reputed company.
In his spare time, Shubh loves to try different cuisines, hiking, going on roadtrips and learning about new cultures Canada has to offer.