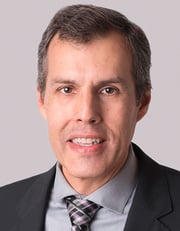 Marc is a Senior Immigration Lawyer at My Visa Source. He has extensive experience as an immigration lawyer with both Personal and Business immigration matters. He is licensed as a lawyer in Canada and the United States, and he has in-depth experience practicing both Canadian and US immigration law.
He has advised small and large companies on strategies for the effective cross-border movement of their personnel and on best practices to follow for successful immigration compliance. Marc has represented companies in many different industries and he has also assisted individual clients.
He has worked on a wide range of immigration cases, including work permits, permanent residency and admissibility issues. Originally from the US, he has lived in Canada for many years now. Marc received his Bachelor of Arts degree from Syracuse University and his Juris Doctor degree from the State University of New York at Buffalo, School of Law. He lives in Canada with his spouse and their two daughters.
Beyond the world of immigration law, Marc enjoys running, cycling, swimming, skiing, reading, movies, traveling, and music.