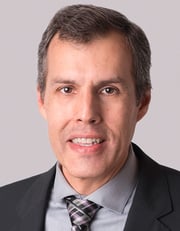 Marc is a Senior Immigration Lawyer at My Visa Source. He has extensive experience as an immigration lawyer with both Personal and Business immigration matters. He is licensed as a lawyer in Canada and the United States, and he has in-depth experience practicing both Canadian and US immigration law.
He has advised small and large companies on strategies for the effective cross-border movement of their personnel and on best practices to follow for successful immigration compliance. Marc has represented companies in many different industries and he has also assisted individual clients.
He has worked on a wide range of immigration cases, including work permits, permanent residency and admissibility issues. Originally from the US, he has lived in Canada for many years now. Marc received his Bachelor of Arts degree from Syracuse University and his Juris Doctor degree from the State University of New York at Buffalo, School of Law. He lives in Canada with his spouse and their two daughters.
Beyond the world of immigration law, Marc enjoys running, cycling, swimming, skiing, reading, movies, traveling, and music.
Take a Look at Some of Marc's Client Reviews:
"A simple review is not enough to say Thank You for all your hard work, and taking care of us and being there for us every step of the way during the application process. Every case connected with immigration is very personal, emotional and for most of the time as an Applicant, I felt being stripped from privacy. That is why for me and my spouse it was very important to see that all My Visa Source team members were not only acting very professional but first of all humane, trying to create for us a comforting and understanding environment, and succeeding in doing so. You had our back when we were getting tired and discouraged during the process. Thank you Sonia, Hetvi, Sunny, and Marc."

5 out of 5 » Rating by: Katarzyna R.
"Despite a few issues at the beginning of the procedure, which were then solved, I have been very satisfied with the service I received at Myvisasource. The way they prepare applications is rock-solid and they won't send yours until all the odds are in your favour (so be prepared to send tons of documents). They also respond to E-mails very quickly and comprehensively (2 days is a maximum). Special thanks to Mei for having put together my Work-permit and double-checking that everything was in order. Also thanks to Sonia for answering me quickly in a critical moment with all the answers I needed, and thanks to Marc for spending a lot of time on the phone providing me with informations that went way beyond what I paid for."

5 out of 5 » Rating by: Google Reviewer