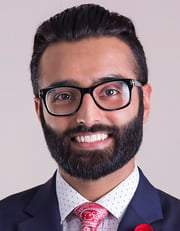 Mandeep works closely with Managing Partner and Immigration Lawyer Sonia Mann in the temporary and permanent residency departments at My Visa Source. He was born and raised in Canada, where he studied commerce.

Mandeep obtained a Bachelor of Laws (Hons.) degree from the University of Leicester. Mandeep successfully obtained a Certificate of Qualification from the National Committee on Accreditation of the Federation of Law Societies of Canada. He then completed the Law Society of Ontario bar exam and is a candidate to become a lawyer in the province of Ontario.

He has worked within a team, servicing individual and corporate clients in a variety of matters under the Citizenship Act and Immigration and Refugee Protection Act. In particular, his exposure includes assisting companies with the relocation of key staff and shareholders, allowing individuals to overcome inadmissibility and reunifying families from around the globe.

On the temporary residence team his exposure has ranged from LMIAs, also Owner Operator LMIAs and work permits to obtaining status for foreign nationals, allowing them to further their post-secondary credentials through the Canadian education system.

On the permanent residency team, he has exposure to economic clients ranging from Express Entry, Provincial Nominee Programs and business immigration submissions.

Within the firm, Mandeep Dhillon and Sonia Mann have taken the lead on building and perfecting processes that have proven to put clients at the centre of the firms service offerings.

On his spare time, Mandeep enjoys spending time with his wife hiking trails and in the winter months snowmobiling and snowboarding many of Canada's breathtaking mountains. Recently, Mandeep has taken to playing golf during the spring and summer seasons in Canada. Mandeep is an avid Toronto Blue Jays and Vancouver Canucks fan.
Take a Look at Some of Mandeep's Client Reviews:
"I would definitely recommend My Visa Source. After meeting with other immigration lawyers who provided my with rather vague answers, I contacted My Visa Source, and spoke with Mandeep Dhillon. It was refreshing to speak with someone who understood my questions, and could offer me detailed suggestions. I got honest answers, and it did not feel like a pitch to get my business. He was very patient, clear, and understanding when explaining complex immigration procedures."

5 out of 5 » Rating by: Jasmine J.
"Mandeep was extremely helpful and detailed in his analysis of my options in going for Permanent Residency in Canada. He was realistic and gave me some great advice on the routes to take in order to successfully apply. I will definitely be returning back for his advice further down the line. Thanks, Mandeep!"

5 out of 5 » Rating by: Josh H.
"Mandeep was very professional and very help in my free consolation for info on permanent residence in Canada. You can tell he truly cares! Thanks for everything!"

5 out of 5 » Rating by: Julian L.
"Talk about over the phone information which does not cost a penny! Thank you Mandeep for your help. We are in business from Los Angeles!"

5 out of 5 » Rating by: Saeed H.
"I would highly recommend My Visa Source, Mandeep was extremely helpful and was able to give me very strong and good advice."

5 out of 5 » Rating by: Rory S.
"Mandeep was very professional and knowledgeable. He offered great suggestions and was very helpful and polite. Would definitely recommend My Visa Source!"

5 out of 5 » Rating by: Michelle F.
"Mr. Mandeep is very helpful. He gave a great ,sincere and timely advice!!! Thanks for all the help and efforts will highly recommend."

5 out of 5 » Rating by: Shivi K.