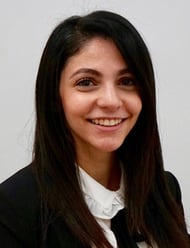 Maria works closely with a Senior Immigration Lawyer at My Visa Source as a Case Analyst.
Maria
was born in Egypt and raised Canada.
Maria
has spent her entire academic life in Canada where she pursued a career in law.
Maria
attended Humber College as a Paralegal student where she obtained her Bachelor of Applied Arts - Paralegal Studies degree. Maria is an active member in good standing with the Law Society of Upper Canada as a Paralegal.
Maria
's passion for immigration stemmed from her own experiences. Being an immigrant herself and surrounded by fellow immigrants in her local community, she felt inclined to assist in making the immigration process as smooth as possible for those looking to make Canada home on either a temporary or permanent basis.
On her free time,
Maria
enjoys volunteering with dog rescues, hiking and being surrounded by family and friends.