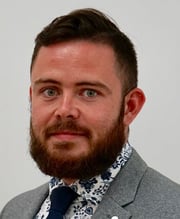 Jesse was born in a small town outside of London Ontario called Delaware in Canada. He completed his bachelor's degree in Political Science with a specialization in International Relations with Honours from the University of Ottawa. Following this, he completed his Master's degree in Immigration and Settlement Studies from Ryerson University. Jesse is a licensed immigration practitioner.
Throughout his time in this profession, Jesse has enjoyed building relationships with people and helping them find creative options and solutions to make Canada home either permanently, or temporarily based on their needs.
In his spare time, Jesse enjoys traveling, learning new languages, playing rugby, and spending spare time with family and friends. Jesse speaks English, French and also is functional in Spanish.
Take a Look at Some of Jesse's Client Reviews:
"I had a friendly and qualified service every time i called. So far they always solved the issue's i had. Every time i call they direct me straight to Jesse Root, i guess i stick with him now. :) I hope that there will be no more reasons to call, but if. I know who i'm calling. Thank you."

5 out of 5 » Rating by: Maria Q.
"I have been working with Jesse Root since October to get all the information needed to apply for immigration to Canada. He has been exceptional in the process and I look forward to continue working with him on my application. Definitely recommend to anyone with questions about immigration to Canada!!"

5 out of 5 » Rating by: Sophia G.
"Informative and technically astute! The lawyer named Jesse Root provided a forward-thinking approach to resolve my potential immigration challenges and ensure I retain the validity of my status. To others seeking advice, take advantage of the first consultation which is free. Document your issues before setting an appointment, and they in turn will try to outline a solution for you."

5 out of 5 » Rating by: Abogbeji A.
"I called this office in search of advice and guidance on addressing how I might go about getting my immigrant girlfriend and now wife into the country. I had sought out advice prior from another agency of similar nature and was very displeased with the lack of honesty in pricing and and communication in terms of the process. When I called I spoke with a man named Jesse Root. He was an absolute pleasure to speak with over the phone and could not have answered my questions anymore clearly and concisely.
I regret not being able to transferring my business over to Jesse as the agency I had begun with was not willing to refund the $1000 dollars I had put down already. I can't speak on behalf of the actual service Jesse Root from My Visa Source offers as I did not end up using the service. However, in my experience one thing is certain, they are transparent and tell you everything you will need to know about the process in advance and are upfront and honest about it all unlike the agency I first choose to go with. Thanks again Jesse for you time and I wish you all the best. I hope this helps."

5 out of 5 » Rating by: Keith L.
"Jesse was extremely kind and helpful and answered every one of my questions. I highly recommend them."

5 out of 5 » Rating by: Hilly E.
"It was nice speaking to Jesse, he was really informative and briefly guided me through the application procedure for P.R. The best thing to be mentioned is that he gave me a prompt response for all my queries."

5 out of 5 » Rating by: Liji G.
"Jesse, he was seriously amazing because of information he had."

5 out of 5 » Rating by: Jaskaran S.