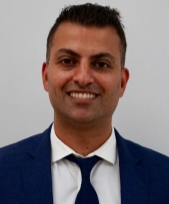 Irfhan is a Case Manager with My Visa Source. He completed a Bachelor's degree at Simon Fraser University in Burnaby, British Columbia and further went on to complete an Immigration Consulting Diploma.
Irfhan was born in Kenya and had to leave the country at a very young age with his family and start over in Canada, due to an increase in violence, prejudice and racism that he and his family faced as a minority in his home country. Growing up in Canada, he saw a multicultural society that embraced differences and provided everyone with an opportunity to succeed.
After spending the past 2 years conducting self-funded clean water projects in Africa and India, that provided access to clean water for 2,500 villagers, he witnessed many human rights violations that do not occur in Canada. Irfhan joined My Visa Source with the intention of helping those who live in less ideal conditions to immigrate to Canada.
In his spare time, Irfhan enjoys weightlifting, travelling, conducting clean water projects and spending time with family and friends.