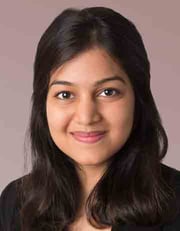 Hetvi Shah was born and raised in Mumbai, India before moving to Toronto where she pursued an undergraduate degree in International Development Studies from the University of Toronto and received her Bachelor of Arts Degree.
Hetvi's passion for immigration stems from her education in International Development Studies. She strongly believes in equality and equal opportunity for all. This background has influenced her passion for immigration law with a goal of helping people from around the world to unite with their loved ones and find a safe haven in Canada. To further explore her passion, Hetvi completed her Immigration Consultant Diploma in Summer 2016.
When not at work, you might find Hetvi cooking a fancy meal, traveling or on expeditions in search of good food and traditional cafes around the city.
Take a Look at Some of Hetvi's Client Reviews:
"We are very pleased with MyVisa Source, as we've been dealing with them for visa extension and PR application. Mandeep was very informative when we wanted to know more about their company, before making a decision.
Moving forward, Hetvi our case analyst, Sonia and Marc (which were on our case as well) were very knowledgeable, prompt and organized. Having Hetvi help us with our case, felt like such a rock was lifted off our shoulders. We strongly recommend MyVisa Source to everyone that are dealing with Immigration in Canada. Thanks again"

5 out of 5 » Rating by: Rebecca A.
"Impressive and professional service. Questions had queries were answered promptly. Hetvi and Sonia were very helpful and professional throughout my application process. Thanks guys!"

5 out of 5 » Rating by: Islanda B.
"The service I received from My Visa Source was excellent! I had multiple applications that needed to be submitted, hence was a long process. But right from the very first day when I contacted them to the last day when I submitted my application, everything was very professional. A big thank you to Angel who guided me about the different services possible and how the whole process was going to work. Thank you to Marc for providing expert guidance on all things immigration.
A huge thank you to my Case Analyst - Hetvi for answering my endless list of questions and preparing the entire application packages ready for submission! Would definitely recommend My Visa Source for all your immigration needs! Thanks again!"

5 out of 5 » Rating by: Abhay M.