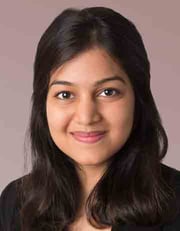 Hetvi Shah was born and raised in Mumbai, India before moving to Toronto where she pursued an undergraduate degree in International Development Studies from the University of Toronto and received her Bachelor of Arts Degree.
Hetvi's passion for immigration stems from her education in International Development Studies. She strongly believes in equality and equal opportunity for all. This background has influenced her passion for immigration law with a goal of helping people from around the world to unite with their loved ones and find a safe haven in Canada. To further explore her passion, Hetvi completed her Immigration Consultant Diploma in Summer 2016.
When not at work, you might find Hetvi cooking a fancy meal, traveling or on expeditions in search of good food and traditional cafes around the city.