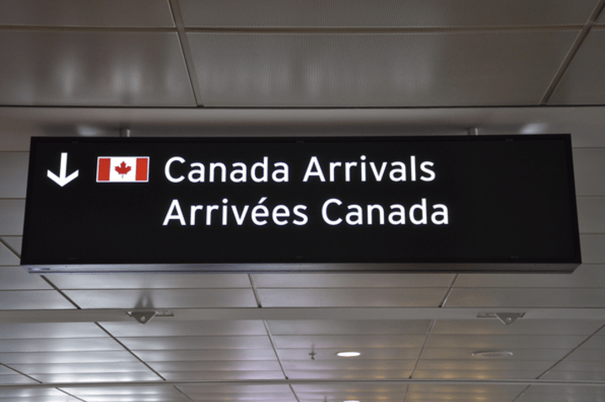 If you're planning on coming to Canada, it's crucial you know that all visa-exempt travellers (except United States citizens) will need an Electronic Travel Authorization (eTA) to board your flight.
There were a few exceptions to the rules, such as an exception for dual citizens, as well as a brief leniency period. However, both of those windows have now closed.
"eTA improves the safety of Canadians by allowing us to check that travellers are admissible before they board their flight, preventing those who are inadmissible from travelling to Canada in the first place," said John McCallum, Minister of Immigration, Refugees and Citizenship.
"We have been doing everything we can to inform affected travellers about these new requirements, and I am pleased that we can now offer a short-term measure to help get some dual Canadian citizens who are not familiar with this new requirement onto their flight to Canada."
The Exception for Dual Citizens is now Closed
There was an exception for dual citizens with an imminent flight to Canada. Prior to January 31st, 2017, dual citizens could apply for a special authorization and board their flight to Canada using their valid non-Canadian passport. However, their flight had to be leaving in less than ten days, and their citizenship had to be confirmed by Immigration, Refugees and Citizenship Canada (IRCC).
But again, the window for this exception has now closed. There was also a "leniency period" from March 15, 2016, until November 9, 2016, so travellers who didn't know about eTA could still enter Canada. That deadline has also passed.
How Do I Get Electronic Travel Authorization?
The only place you can get your eTa is through the Government of Canada's website. So click here to start.
You will need:
A valid passport from a

visa-exempt country

If you are a lawful permanent resident of the U.S. and you do not have a passport, you can apply for an eTA with:

a valid U.S. Refugee Travel Document (I-571)

a valid Permit to Re-Enter the United States (I-327)

A valid email address, AND

One of the following acceptable methods of payment to pay the $7 CAD fee (non-refundable):

Visa®, MasterCard®, American Express®

a pre-paid Visa®, MasterCard® or American Express®

Visa Debit

JCB Card, or

Interac bank card from any financial institution
Are You Looking to Immigrate to Canada?
The immigration process can be very complex, especially if you're trying to navigate it on your own. You're always best off working with a team of professionals with a history of helping people in your situation.
With firms in international hubs such as Vancouver and Toronto, My Visa Source is well-suited to meet your needs, and we are a BBB Accredited Business (Better Business Bureau).
To begin your journey, please click the blue "Start Your Assessment" button on the righthand side of this blog. We can quickly assess your needs and schedule a FREE consultation.