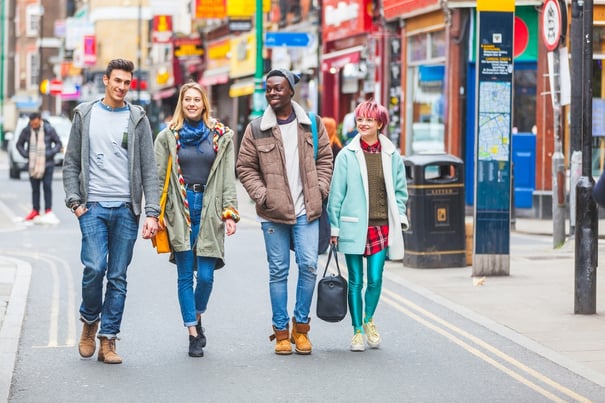 Canada can be an inviting place for any prospective expat looking to escape the daily grind of the UK. But it's not all maple candy and bacon-that-tastes-like-ham goodness in the Great White North. Here are some things you should consider before you take the plunge.
#1. Canada Is a Bilingual Country
Canada has two official languages - English and French. Approximately 17.5% of Canadians have conversational proficiency in both English and French, and fluent bilingualism is usually a prerequisite in any job in civil services. It's a good idea to keep the linguistic culture in mind before resolving to settle in Canada, since not every province is English-speaking. New Brunswick, for instance, is officially bilingual, whilst Quebec and some areas of the prairies speak primarily French. Outside of rural Quebec, most populations are able to speak at least a little bit of basic English. However, if you're the type of traveller for whom speaking a foreign language simply means "speaking English, only louder," you may well find yourself surprised by the rich cultural experience of the Great White North.
#2. If You Want a Work Permit, Find a Job First
Get a jump start on employment by seeking a job before heading to Canada.
If you're banking on getting a job after your move, you may want to think about where you're heading. According to the Government of Canada, the lowest unemployment rates are in Manitoba, Alberta, and Saskatchewan.
Your field of work has a huge influence on your ability to secure a work permit. The dropping global prices on commodities have put a hurt on Canada's resource-dependent jobs. However, there is an increase in demand for jobs in science, technology, engineering, and math (STEM) fields, according to Nathan Laurie of JobPostings.ca. Additionally, there is an expected demand for healthcare-related jobs to care for the aging Canadian population.
But ultimately, unless you're a business visitor operating under one of the free trade agreements that Canada is a signatory to, you'd be better off starting your job search before applying for a work permit in the country.
#3. Taxes and Gratuities Are Not Included
British expats might be taken aback to find extra charges in taxes and gratuities on their bill. In Canada, sales taxes are not included in the marked prices of commodities, and so most purchases will be marked up 13-15% once taxes are taken into account. While to many newcomers this may seem like a rather cruel imposition of unnecessary arithmetic, the additional sales taxes are mandatory.
Furthermore, tipping is expected when it comes to most service industries, whether it be taxis, bars, or restaurants. Skimping on a tip is considered to be inappropriate and is usually only done to protest bad service. When in doubt, tip between 15% and 20%. If you're at an inexpensive pub, it is polite to tip at least 1 dollar per drink.
#4. The Canadian Immigration System is Complex
Canada is often billed as a land of immigrants, but that doesn't mean the process itself is easy.
An adult wishing to remain in Canada will have to apply for permanent resident status, while the processing times of a PR card in itself can run over three months in length. And that's assuming you can get the appropriate family sponsorship, as marriages and romantic relationships with a Canadian do not automatically grant you Canadian citizenship.
Many newcomers have complained of the lengthy and bureaucratic nature of the system. Recurring instances of immigration fraud and false marriages have forced the system to double down bureaucracy, with citizenship proceedings taking as long as two years to complete. If you're keen to find out if you're eligible to work or live permanently in Canada, it might be worth your time and money to seek professional assistance to guide you through the process.
#5. Remember, Quebec Has Its Own Immigration Rules and Regulations
Moving to Montreal? Not so fast!
Thank the Quebec-Canada Accord: the province of Quebec sets its own immigration requirements, which is distinct and separate from the rules that govern the rest of the country. The Quebec Skilled Worker Program uses a points-based system to determine the eligibility of individuals to immigrate to the province and obtain permanent residence status. The system is based on various selection criteria, such as diploma, occupational training/skills, employability and intentions of staying for the long-term. A minimum score is required to be considered for the province of Quebec.

Still Thinking of Coming to Canada?
If you're still intent on coming to Canada, there are several options that can help ease you through your immigration process. With firms in international hubs such as Vancouver and Toronto, My Visa Source is well-suited to meet your needs, and we are a BBB Accredited Business (Better Business Bureau).
To begin your journey, please click the blue "Start Your Assessment" button on the righthand side of this blog. We can quickly assess your needs and schedule a FREE consultation.